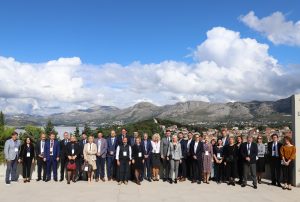 The 21st MNRA Plenary Assembly was held in Cavtat, Croatia, on 11 and 12 October 2021, at the invitation of the Agency for Electronic Media (AEM) of Croatia, which holds the Presidency of the network.
Nineteen member authorities from eighteen countries and territories around the Mediterranean were present: AEM of Croatia, AEM of Montenegro, AGCOM of Italy, AVMU of Macedonia, BA of Malta, CA of Moldova, CAA of Andalusia, Spain, CAC of Catalonia, Spain, CCSB of Israel, CNMC of Spain, CRA of Bosnia and Herzegovina, CSA of France, ERC of Portugal, GRA of Gibraltar, HACA of Morocco, IMC of Kosovo, NCRTV of Greece, REM of Serbia, RTÜK of Turkey. The Cabinet of D. Šuica Vice-President for Democracy and Demography of the European Commission, the European Commission's DG CONNECT, the European Regulators Group for Audiovisual Media Services (ERGA) and the European Broadcasting Union (EBU) also took part in the work. The meeting was held in person and by video conference.
The work of the plenary assembly was structured around six topical themes of current interest to the regulation : the major trends in public service media, ongoing work on the European Union regulatory framework, the Digital Services Act and the role of regulators in the regulation of online content platforms, the ERGA and the European dimension of online content, the effects of the pandemic on audiovisual media services, immigration and racism. The sessions recorded rich and fruitful exchanges between the participants.
The work of the Gender and Media and Media Literacy working groups was presented. The study of the Gender and Media working group carried out in 2019 on the news coverage of gender based violence from March to May 2018 and the recommendations addressed to broadcasters for the treatment of information on gender violence were adopted by the participants. The next work of the group will be dedicated to the representation of women's sport on television. The Media Literacy working group presented the results of the March 2019 questionnaire on the legal framework, the regulators' competences, the national initiatives and partnerships in media literacy well as a proposal of next steps to be carried out by the group.